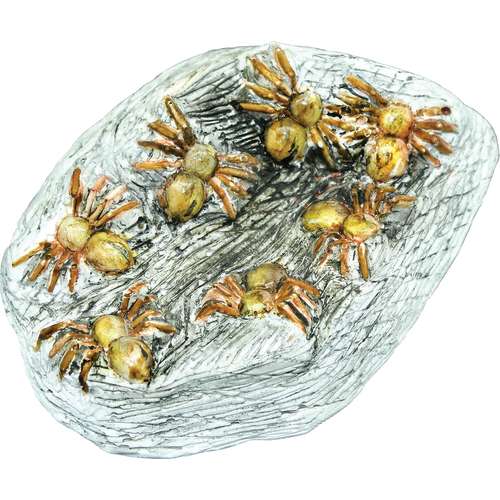 ---
Product Media
 
Wild Environmental Science: Extreme Spiders of the World Science Kit
Product Number: CTUWES945
Extreme Spiders of the World is a hands-on, collectible animal kit, which combines science and crafts. Children will make a life-size Tarantula Spider eating a lizard and a life-size egg sac with spiderlings. They will also assemble a detailed 3D wooden model of a Tarantula. A desert diorama is included for children to build and decorate with their spider artifacts. The kit also includes a spiders poster and all of the materials required for the craft activities. Teach children about 10 of the worlds most extreme spiders. Using the full-color education and instruction booklet, children will gain an understanding of STEM concepts while creating their own spider-related products to be proud of. For kids ages 6+. Size of poster: 16.5"L x 11.7"W.
Educational Aim: Teach children about Arachnology - the science of spiders, ancient ancestors of spiders and the amazing adaptations of spiders to their environment. This kit is perfect for science fairs, show and tell sessions, nature tables and more. Children will gain an understanding of and apply STEM concepts while creating their own spider-related products to display and admire. Children can use the 3D model to gain an in-depth understanding of features and express their creativity as they paint it.
Product Features: The full-color instruction booklet contains illustrations with each step and is easy to follow. The reading in the booklet is ideal for children aged 10+, but those aged 6+ can follow and complete the activities with adult supervision. The kit contains all materials required to complete the activities. WILD! Science products are fully compliant with ASTM and CPSIA toy testing requirements and perfect for home, center, or school use. For ages 6+.
Product/Package Contents Include: Includes: spider-themed molds, desert diorama, 3D spider wooden puzzle, spiders poster, beaker, Plaster of Paris, acrylic paints, paintbrush, instructions, safety leaflet.